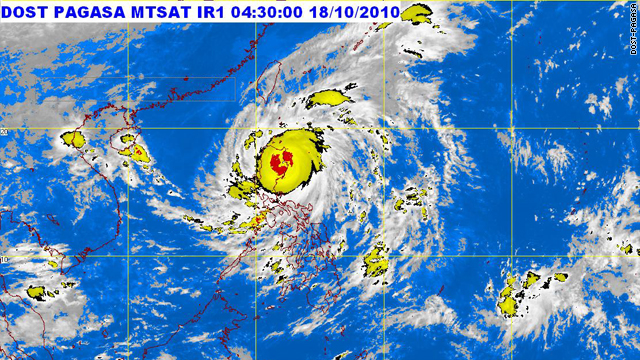 This PAGASA-DOST satellite image at 0430 GMT Monday shows Typhoon Juan making landfall in the Philippines. STORY HIGHLIGHTS
Megi, also known as Juan, carries maximum sustained winds of 225 kph (140 kph)
Storm chaser: Infrastructure in the area "is quite fragile"
Thousands of hectares of agricultural land are in danger
(CNN) -- Super Typhoon Megi has made landfall in the northern Philippines, the national weather agency said Monday.
Megi, also known as Typhoon Juan, made landfall near Sierra Madre on Luzon island, according to the Philippine Atmospheric, Geophysical & Astronomical Services Administration (PAGASA).
It has maximum sustained winds of about 225 kph (140 kph) and gusts of up to 260 kph (162 mph).
"The winds have been steadily increasing," James Reynolds, a storm chaser who is on Luzon, told CNN Monday morning.
Fact Box
Super Typhoon Megi is ...
-- Strongest storm worldwide since Hurricane Wilma in 2005 -- Strongest storm in the Pacific since Typhoon Flo in 1990 Source: CNN
"Unfortunately, this is a part of the world where the infrastructure is quite fragile, the power grid is quite fragile and a lot of people live in quite basic houses."
The typhoon could damage large amounts of agricultural land along its path.
"Thousands of hectares are in danger of being ruined," CNN meteorologist Ivan Cabrera said.
Cabrera called Megi a "monster storm."
A typhoon of this intensity could cause storm surge as high as 6 to 8 meters, threatening population centers along the coast.