The so-called Hill fire was substantially contained late Friday night, and officials said that fire conditions were becoming favorable, with easing winds and increasing humidity.
The southbound lanes of the 15 were closed for hours, and traffic in the northbound lanes was snarled.
"The traffic is just stopped," O'Connor said. About 750 firefighters and other crews battled the blaze, helped by nearly 20 aircraft, including a DC-10 dropping fire retardant.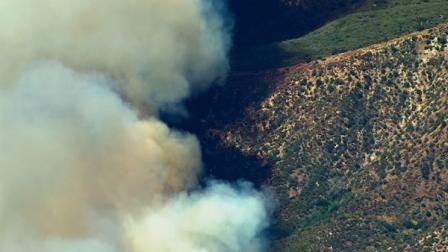 It's hard to find where the fire is."
Labor Day weekend experienced a rough start Friday. Flames engulfed brush along Interstate 15 near Cajon Pass. The fire brought traffic in the area to a standstill while firefighters rushed to bring the blaze under control.
The traffic delays inflamed travelers.
One Las Vegas driver trying to get to Los Angeles was in the thick of the heat and the action. "As we got closer and closer, it was moving pretty slow," said driver Al Robeles. Northbound drivers had to deal with reduced lanes and slower traffic. At least one driver suffered smoke inhalation. About 1,500 homes were evacuated in the Oak Hills neighborhood, as a wildfire in the
Cajon Pass
grew to 1,100 acres, according to the San Bernardino National Forest Service.
AV Fire News has posted a collection of phone numbers that may be helpful for residents/family affected by the fire.
The next Cal Fire update was not expected until morning.
Aerial video showed the fire threatening structures in the Cajon Junction area. At least one home was heavily damaged, two mobile homes were lost and two other structures were damaged, according to the San Bernardino National Forest Service.
A second firefighter suffered heat exhaustion, according to the San Bernardino National Forest Service.
Despite earlier estimates from Caltrans, the 15 Freeway opened Friday evening.
The cause of the fire is under investigation, said Capt. Josh Wilkins of the San Bernardino Fire Department. The fire began about 12:43 p.m. in the center divider of the freeway at Oak Hill Road.