Last Thursday afternoon, owner Karen Pascoe and her feline friends, Jack the Cat and Barry, were supposed to be being transported from
New York's JFK International Airport
to California. Since that point in time, Pascoe has been relentless in her search for her cat. Pascoe's original and unorthodox means of putting pressure on American Airlines seems to be working.
She has already received direct responses from American Airlines via their Facebook page regarding the status of the search for Jack.
What do you think about Pascoe's relentless and unorthodox search for her missing cat? Jack the cat has been missing from New York's John F. Kennedy International Airport since Aug. 25 and cat lovers are using social media to pressure American Airlines to find him, MSNBC reports.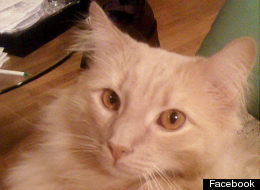 Karen Pascoe checked in her two cats, Jack and Barry, on American Airlines Flight 177 before Hurricane Irene hit the city to San Francisco, where Pascoe is starting a new job. Pascoe's sister, Mary Beth Melchior, has set up a Facebook page dedicating to finding Jack the cat, according to UPI. She set up the page because the airline didn't respond to queries about the lost cat for more than 60 hours after the cat got loose.
Pressure from the 1,000 members of the page prompted American Airlines to apologize to Pascoe and said they are using food and humane traps to find Jack.
Except one of the cats, Jack, escaped, and now American Airlines has launched an all-out investigation to find the lost cat, who is, presumably, still roaming the halls of JFK.
I just want my cat. As of Tuesday morning, Jack the cat has yet to be found.