Houston Texans coach Gary Kubiak is optimistic
Arian Foster
will be ready for the regular-season opener after the star running back re-aggravated a hamstring injury in Saturday's preseason game in San Francisco.
Kubiak said head athletic trainer Geoff Kaplan offered a "very positive" outlook for Foster's recovery, though Kubiak stopped short of saying Foster would definitely be healed in time for the Sept. 11 opener against Indianapolis.
"Until he hops back out there, there's a concern," Kubiak said. Kubiak also said All-Pro linebacker DeMeco Ryans will return to practice on Monday. Ryans did not travel with the team to San Francisco because of an elbow injury.
"It's not like it's one guy having a great preseason," Kubiak said. The Texans play at Minnesota on Thursday before trimming the roster to 53 players. The Texans have developed the opposite problem along the offensive line, the unit hardest hit by injuries in training camp. Guards Antoine Caldwell and Kasey Studdard are out with ankle injuries and tackle Rashad Butler missed the 49ers game with a hamstring injury.
"Our first group's been very consistent," Kubiak said. At his regular day-after news conference today, Texans coach Gary Kubiak reiterated that running back Arian Foster's hamstring injury isn't serious, praised outside linebacker Mario Williams, expressed concern about depth in the offensive line and pointed out the importance of young players performing well in the last preseason game at Minnesota.
"Everything's positive today," Kubiak said. Kubiak said Derrick Ward is still second team and Ben Tate third team behind Foster, but that could change depending on how they run against the Vikings on Thursday.
"Mario did a good job," Kubiak said. Because most of the starters won't play against the Vikings, Kubiak is worried about depth in the offensive line. Offensive tackle Rashad Butler (hamstring), guard Antoine Caldwell (ankle), guard Shelley Smith (guard) and guard Kasey Studdard (ankle surgery) missed the San Francisco game.
4 those worried abt your fantasy team, u ppl are sick
Arian, you're a professional athlete. Great angle. Most people would agree. (Indianapolis Colts fans may not.) Why do athletes differentiate between people who care because they're fans of the Texans and people who care because they're fans of their fantasy team?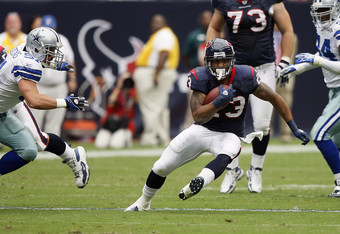 Sincere concern is not about being a Texans fan. Texans fans, as a whole, probably care as little about Arian Foster's well-being as fantasy football players do. I won't even get into the poor grammar that insinuates that every athlete differentiates between Texans fans and fantasy football owners.
All fans are good fans, Arian.
Which isn't to humanize Chris Chase, because he's just a soulless laundry piece for Team Yahoo! Really dragging down my Fantasy Sports Writers team. It's not like cheering for a fantasy team is much different than cheering for a real team. it's funny because the Texans have been a mediocre football team and this somehow furthers his point!