Gordon led a race-high 206 of 500 laps in Saturday night's Irwin Night Race at
Bristol Motor Speedway
, but had to settle for a third-place finish after a spirited battle with Martin Truex Jr.
In his last nine races, Gordon has finished sixth or better six times, far more indicative of the trademark consistency that won Gordon four championships.
Gordon showed his hand early in Saturday night's race, putting the No. 24 Chevrolet out front for 85 of the first 238 laps.
Not by the performance of his pit crew -- but by pit road itself.
Yeah, I'm tired of it," Gustafson said after Gordon led 206 laps but finished third in an event won by Brad Keselowski. Our pit box, guys held us up, and guys would gas it up and pass us. NASCAR uses timing lines to gauge driver speed at certain sections of pit road, and drivers have made a practice of learning where those lines are and zooming up to them, but slowing down to the required speed to pass them. Bristol is the only track on the circuit with a split pit road, and Gordon's stall was the first one on the backstretch. According to the No. 24 team, the timing lines at the short track are simply too spread out, and drivers who face more pit-road traffic -- as Gordon did on his final stop -- are at a disadvantage.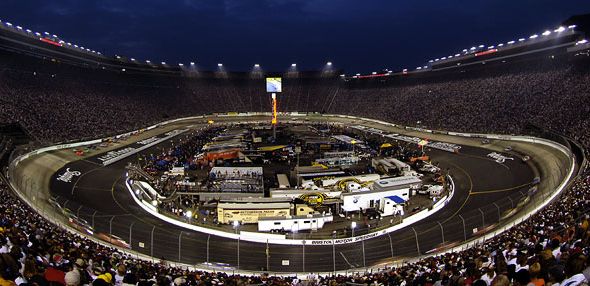 The race track is awesome, but the pit road is terrible. When a guy can run 60 miles an hour down pit road and the pit road speed is, what, 35, then something is wrong with the system," Gordon said.
[Matt] Kenseth drove by four cars, and so did [Keselowski] when he left his pit stall. Gustafson was more succinct, pointing to the Sunoco sign that marks the entrance to the frontstretch pit road. "I'm excited about our race team. We've been running really strong, been leading a lot of laps, running up front at the big races.