Last night, I went to a screening of Gloria: In Her Own Words, a documentary about Gloria Steinem produced by HBO that will air Monday night at 9 p.m. ET on HBO.
It's about an hour long and covers Steinem's childhood of neglect and deprivation, her pre-feminist life as a journalist in New York City (including her famous expose of the working conditions of the "bunnies" in the Playboy Club), her feminist awakening as she was covering an abortion speak-out in her capacity as a journalist, her founding of Ms. Magazine, and her life as an aging icon of the second wave of feminism.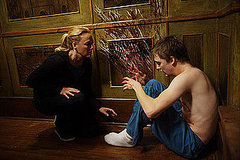 Steinem got a lot of attention for being the "hot" feminist, but in reality she was more common than not.
The ERA loss was the first time the right was able to successfully stop the feminist movement, and it's been racking up important victories against women ever since.