The book, published in 2010, won the National Book Award and was on the New York Times bestseller list for 37 weeks.
Mr. Mapplethorpe took the iconic photograph of Ms. Smith for the cover of her 1975 album Horses.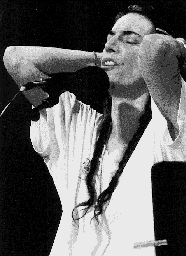 Inducted into the Rock and Roll Hall of Fame in 2007, Smith is known for rejuvenating the rock scene with her poetic, heretical, garage-band aesthetic.
Patti Smith
's memoir, Just Kids, about her life with the late Robert Mapplethorpe, won the 2010 National Book Award for non-fiction. Singer-songwriter and poet Patti Smith will speak at the Mott Community College Ballenger Eminent Persons Lecture Series this fall.
Smith's poetry, painting, photographs and music have also been tied with such big names as Robert Mapplethorpe, Bob Dylan and Sam Shepard