Firefighters will try to drain
propane
from a burning rail car in Northern California on Wednesday in a bold maneuver meant to head off an explosion after the blaze forced the evacuation of thousands of people.
Fire officials will begin the procedure Wednesday afternoon, according to KCRA.
It was unclear how the tanker caught fire. One worker at the rail yard was injured in the initial fire, which erupted at the Northern Propane Energy yard in Lincoln, about 30 miles northeast of Sacramento. Thousands of people are evacuated this morning in preparation for a possible explosion after a full propane tanker caught fire in Lincoln, just northeast of Sacramento.
A specialized team from Houston, Texas is coming in to cut into the tanker in an attempt to put the fire out after unsuccessful attempts by Cal Fire.
The tanker itself is holding 29,000 gallons of propane, and is surrounded by 500,000 gallons of propane in surrounding tankers.
The rail tanker fire in Lincoln continued to burn Wednesday, increasing the pressure inside the car and the likelihood the of an explosion.
Cal Fire spokesman Daniel Berlant said 4,800 homes and businesses in a one-mile radius around the burning propane at 9th and I Streets were ordered to leave.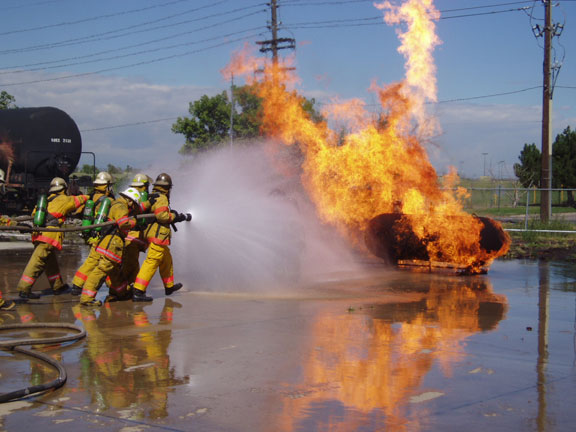 The Placer County Sheriff's Department activated reverse 911 calls to residents to evacuate the area.
Staff at Lincoln High School and Glen Edwards Middle School were evacuated.
The tanker is in the yard of Northern Energy Propane.
A firefighter on the scene said a tanker car holds 29,000 gallons of propane and burns between 30 and 50 gallons per minute.
The Lincoln Fire Department requested three additional engine companies to respond. Rocklin Fire Department crews were also on site.
Evacuation centers
Air quality
Reverse 911 glitch